Coenraad Torlage from the Stellenbosch Academy of Design and Photography was awarded the 2021 Student Photographer of the Year Award. We spoke to him about his inspirations and aspirations as a young farmer and photographer in South Africa.
An achievement of global proportions
Technopark extends huge congratulations to Coenraad Heinz Torlage, from the Stellenbosch Academy of Design and Photography situated in our own Technopark. Coenraad was named Student Photographer of the Year for 2021 at the prestigious Sony World Photography Awards for his series "Young Farmers".
The series was developed as an interpretation of the brief  "Our Time", where students were challenged to show a story describing the way their contemporaries see the world and how they plan to change it. Along with his trophy and bragging rights, Coenraad walked away with R500 000's worth of Sony digital imaging kit for his institution.
We sat down with Coenraad to hear more about his award, what inspired his series, and his outlook for the future.
A photographer of our time
Coenraad Torlage was born on a farm in rural Dundee in KwaZulu-Natal, South Africa. The third-year Visual Communications student grew up surrounded by cattle, horses, donkeys and chickens, in a community of farmers dedicated to food production. As a young South African farmer, Torlage understands that "farming is an intense occupation that requires passion and unwavering dedication". As a photographer, it is his lived experience that he draws on for inspiration. By choosing to document his community, friends, family and peers through his lens, Torlage is not only able to explore his own identity, but also to touch on broader narratives of contemporary importance that challenge us at various scales.
"Photography is an extremely powerful medium through which to capture moments, tell stories and ultimately challenge narratives," explains Torlage. In a rural environment where multiple challenges exist including debates about land ownership and unpredictable climate with extreme weather conditions, we are, according to Torlage, living in important and difficult times.
As he puts it:
I aspire to share South African perspectives within a global sensibility. The South African narrative is visually strong, culturally complex and I see it as my mission to tell these stories through the lens of my camera.
Of local leaders & young farmers
As a student from a registered institution, Torlage was able to enter the annual Sony World Photography Awards where participants are met with two different briefs.
This year, the first brief challenged students to portray a narrative connected to building a better future:
While 2020 has been a challenging year, there are those who are working towards a better future for all. We want you to tell us their stories.
In reaction to the brief "Building a Better Future", Torlage went in search of the most philanthropic leaders in his local community – leaders that make an enormous difference without asking for anything in return. Using a full-frame camera and speedlights, Torlage took these photographs in and around Dundee during the lockdown when travelling became less regulated.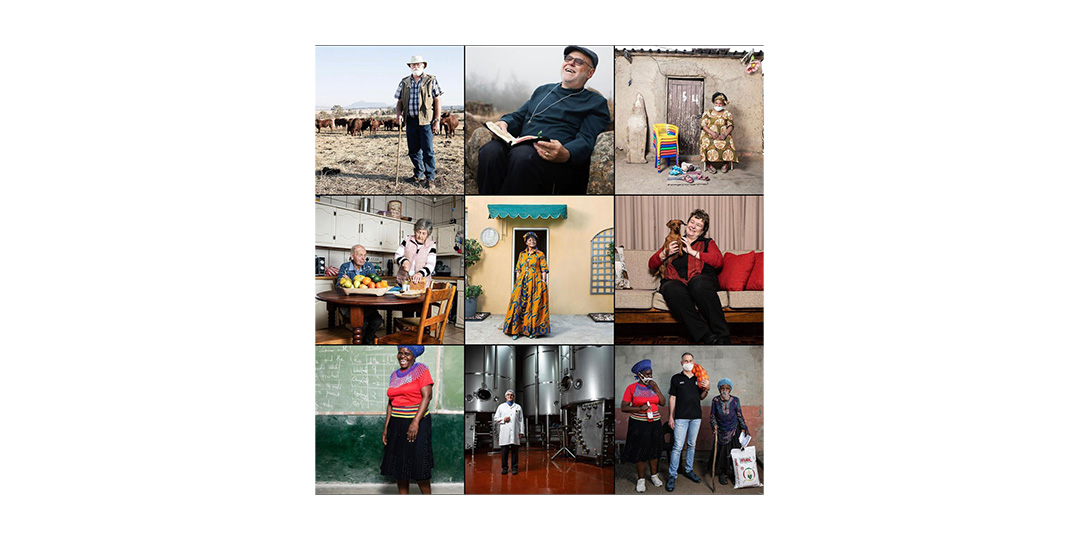 My subjects were carefully chosen and hailed from diverse walks of life, ranging from Zulu royalty to a humble 'gogo' (the isiZulu word for grandmother) living in an informal settlement. Each has changed me in some way, and all have one thing in common: they are working to help build a better future. They set an example I want to share, proving you can contribute to building a better future no matter what your social standing.
His series ""My Local Leaders" was shortlisted as a finalist, along with his class-mate Claudia Mauderer's "Engel Hande". Torlage won a beautiful Sony Camera and a chance to progress to the next round.
The second brief asked students to depict a story describing the way they and their contemporaries see the world and how they plan to change it for the better. In his winning series, "Young Farmers", Torlage set out to photograph young people who choose the farmer's life because, like him, they believe that they have a responsibility:
Young farmers are a multicultural community of individuals who have decided to dedicate their time to maintaining and developing South Africa's agricultural sector, especially in terms of food production … [They] have chosen a tough career path. They focus their energy on something that is extremely important to us all – growing our food. There is no more noble a thing to photograph than these individuals who are so close to me who take major risks on a daily basis.
Acknowledging a strong base
The Sony World Photography Awards is a strong platform that helps photographers further their careers. Torlage attests that he has received a lot of local media coverage, which has been keeping him very busy. The exposure, as well as interests in his prints, has definitely served to drive this young photographer's career into a new direction. However, Torlage is ever humble in his achievements, giving praise to his institution, his lecturers and his fellow students.
Without the academy and the guidance that I have gotten I would not have been close to where I am right now. I have had phenomenal lecturers from when I first started with their one-year Higher Certificate programme, through to me now completing my third year in a full degree. But it is not just the Academy itself, but the support from my fellow students that has enabled me to become better in whatever I am doing. We have a tiny class of six students that has, over the years, become like a family. If I succeed in something, they all succeed along with me.
If you are an aspiring photographer or visual communicator, visit the Stellenbosch Academy of Design and Photography's website to see what courses they have on offer. You just might find an avenue for your own artistic expression to help you tell stories that make a difference to your community.