COVID-19 has forced employers to reimagine the role offices play in their organisations. The work-from-home trend has opened up opportunities while also highlighting limitations. We spoke to Technopark building owner and BexGroup CEO Gustav Bester about his company's COVID-19 experience, his new offices in post-lockdown Stellenbosch, and the role of this new work-space in his company's growth strategy. 
COVID-19's impact on office space
Before the rapid globalisation of COVID-19, offices were generally seen as critical to driving productivity and building a corporate culture. As noted by one 2020 MacKinsey & Company report:
Companies competed intensely for prime office space in major urban centers around the world, and many focused on solutions that were seen to promote collaboration. Densification, open-office designs, hoteling, and co-working were the battle cries.
The rapid spread of extended hard lockdowns across the world prompted business leaders to act swiftly and move towards a new way of working that would:
1) safeguard employees
2) stem the spread of the virus
3) comply with government regulations in times of crisis
A large-scale work-from-home experiment ensued, built on the foundation of new digital technologies in work-flow management and communications – the digitisation of work. The initial movement into the unknown was at first met with trepidation. However, over time many white-collar employees and employers came to see this "new normal" in a positive light. Employees attest to a surprising increase in productivity attributed to cutting down on commuting and a greater flexibility in balancing their personal and professional lives. Employers, on the other hand, have seen the benefit of reduced real-estate costs, increased access to talent not limited by geography, and a re-engineering of corporate culture for a digital age.
In the immediate post-lockdown environment it has become evident that few "'white collar' workers will fully return to the traditional 9-to-5 day at a commercial office." On the other hand, the work-from-home trend has also revealed its limitations. As noted by WSP, "in a knowledge economy, an organization's success will still depend on face-to-face interaction, collaboration and serendipity". While there is no one-size-fits-all solution, successful organisations, from McKinsey's perspective, will boldly question long-held assumptions about work and work space as they determine the following:
what talent is needed?
which roles are most important?
how much collaboration is necessary for excellence?
where should offices be located?
Technopark has been greatly impacted by the hibernation of offices, with many tenants opting to still manage most of their operations in a remote manner. As organisations still determine their strategies moving forward, one company that is carving out its own approach within the "new normal" is BexGroup.
The Bester approach
BexGroup is a holding company for several businesses in the agricultural and logistics value chain. The local, family-owned business has seen steadfast growth since its establishment in 1994, resulting in an expanding workforce and an international footprint.
Like all companies across South Africa, BexGroup has more recently had to manage its growth strategy within a highly restrictive COVID-19 environment. The company has, however, not only managed to sustain growth, but accelerate it. This is in part due to its particular industry – Agriculture. However, its success also lies in an innovative approach to change:
Change motivates us to transcend the norms and set new benchmarks. It keeps us relevant, on top of new developments and sensitive to market indicators. It propels us into a future that is informed by every innovative building block constructed in the present.
According to founder and CEO Gustav Bester, BexGroup has been able to harness the challenges that have come with COVID-19 to better the company through a new approach to work and technology. By noting the positives and negatives related to working from home, the company is settling on a hybrid approach where employees are able to work flexibly between home and office. Not all employees have the same preferences or similar home environments when it comes to working effectively from home. By giving employees more control over how they work and take on responsibilities, Bester believes that you not only establish trust and initiative, but also create an inclusive corporate culture where employees feel taken care of and acknowledged.
But will corporate cultures and communities erode over time without physical interaction? This is a question that Bester has attempted to answer with his new building on Elektron Road in Technopark.
A new building for the next generation
For the last decade, the BexGroup companies have been located at 20 Techno Drive, in Bester's own Platinum Square office building. The company's growth and subsequent new approach to work-space have prompted Bester to make a new investment in Technopark – an innovative building on Elektron Road.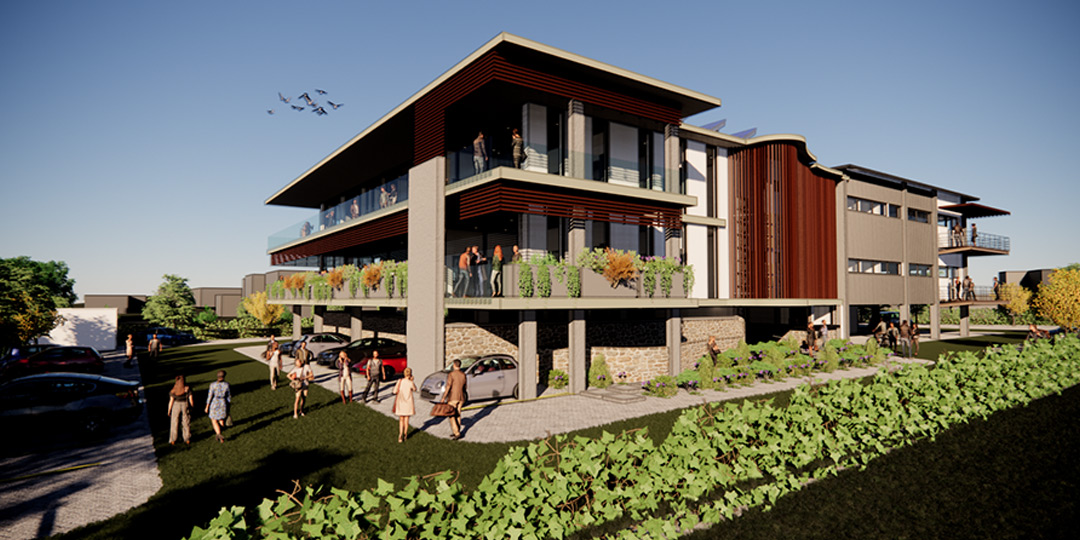 Render of the new BexGroup building on Elektron Road
According to Bester, Technopark has an exciting future as long as the community keeps driving development together. The handling of traffic in and around the park has, in this regard, been a great success.
Bester's new building intends, on the one hand, to consolidate the BexGroup companies in Technopark. Having grown beyond the capacity of Platinum Square, some of the businesses' operations have been located down the road at Trumali House. On the other hand, the building is a representation of the new hybrid model in which work will be managed at the company, with a focus on driving productivity while creating value for the current workforce.
The offices, explains Bester, are built with the intention of facilitating socialising, direct communication, interaction and team building. Designed to be a spacious environment for inspiration, new initiatives and creativity, the offices would in reality never be at more than 60% capacity. Teams will manage how and when they will engage with the space, with the building moreover helping to maintain cohesion and a physical representation of the corporate culture.
An uncertain future remains
With new surges in COVID-19 across the world, the business landscape is far from settling down. Recovery, if one can call it that, will moreover be slow. For now, the trend of working from home remains a constant, while many companies are moving towards hybrid models. The one thing that is clear is that the traditional notions of corporate offices, culture and productivity have been greatly destabilised. This will continue to have a devastating impact on landlords that are, unlike the tenants they seek, less able to easily adjust their business models according to the times.